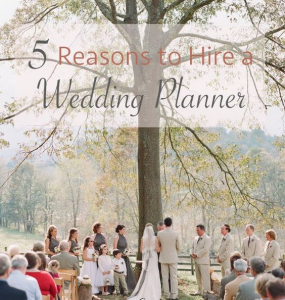 We know you're busy and we love to help plan events! If you're pondering whether a wedding coordinator is right for you, take a look at this list of five reasons you SHOULD hire a day-of wedding coordinator!
1) Someone to help coordinate arrivals, set up times and clean up with vendors 
It is stressful to worry about coordinating with vendors on when to arrive, where to set up, points of importance during the wedding for the caterer, and when to return for break down. A coordinator serves as the point of contact for vendors to ensure they are where they need to be and ready to go for the wedding. Having a coordinator to handle these logistics gives you more time to enjoy the celebration.
2) Someone to help coordinate your wedding ceremony and reception
Seriously, there is SO much to keep up with on your big day, the last thing you want is to have to worry about is if everything is running smoothly outside of your dressing room. A coordinator will make sure the wedding party is lined up in order for the ceremony, the DJ has the cues for when to announce key parts of the reception, and everything in between!
3) Someone is there to handle any issue or crisis that may arise 
From vendor issues to late arrivals to adjusting the timeline if things get slightly behind schedule, a wedding coordinator will ensure issues are sorted out in a timely manner and take the stress off of you so you can enjoy your special day.
4) Someone to handle and coordinate all set up and cleanup 
A coordinator will oversee the setup, placement, and breakdown of all tables and chairs according to a planned floor plan, including your guest book table, gift table and other specialty tables. They will also be there to help round up all reception decor and make sure it gets to the right person to take home. Your family and friends will love you for not putting them to work and allowing them to enjoy celebrating the day with you.
5) Someone to help make vendor suggestions or provide feedback when it comes to your overall ceremony or reception
Coordinators know who's who in the industry and can provide suggestions for excellent vendors they have worked with previously and can make suggestions based upon your budget. They can also help answer any questions you may have when it comes to logistical questions, based on their experience with past weddings in the venue.
There you have it! If any of these reasons interest you, think about hiring a wedding coordinator! A coordinator is a valuable resource for your wedding day and will leave you feeling stress-free on one of the greatest days of your life.